28 Feb 2014
---
WTI sponsors Gujarat International Moot Court Competition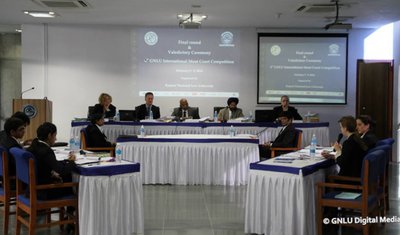 1

/ 2
Panellist Tetyana Payosova
Continuing a recent tradition, the WTI supported this year's Gujarat International Moot Court, held from 5 to 9 February 2014 in Gandhinagar, India. The winning team was invited to attend WTI's Summer Academy on International Trade Regulation.
Some 47 teams from India, Sri Lanka, Mauritius, Nepal, the United States and Indonesia participated in the sixth edition of the competition organised by Gujarat National Law University. This year's winners were the team from the National Law School of India University Bangalore. Runners-up were a team from George Washington University Law School in the United States.
Two panellists represented the World Trade Institute in the final round and the semi-finals - research fellow Tetyana Payosova and MILE alumnus Santanu Mukherjee.
The moot problem of GIMC' 14 was a mix of issues related to international trade law with the participants proceeding before the WTO Appellate Body.
According to GIMC, the moot problem presents a challenge "which can be surmounted only with acuity, clarity of thought, thorough research, composure along with flawless presentation and eloquence".
Further info
GNLU International Moot Court Competition (GIMC)