27 May 2014
---
Former WTI researcher heads new Swiss-Serbian Chamber of Commerce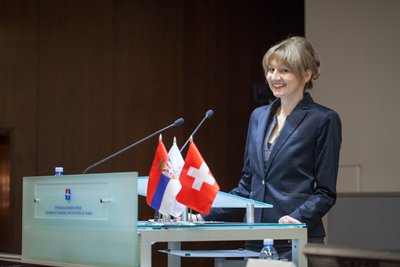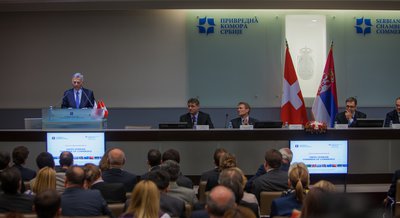 1

/ 2
Ana Grujovic, a former visiting researcher at WTI, has been named as executive of the newly formed Swiss-Serbian Chamber of Commerce (SSCC), based in Belgrade.
The former World Bank consultant came to the WTI in September 2012 where she carried out research into the institutional framework of investment and trade promotion activities in Switzerland under the supervision of Professor Thomas Cottier.
This experience enabled her to work on developing a new organisation in Serbia aimed at fostering and strengthening bilateral economic relations between Switzerland and her home country, Serbia.
"My stay at the WTI enabled me not only to enrich my professional knowledge and relevant skills, but also to apply the acquired knowledge by building up a new, much-needed institutional structure that provides investment and trade support services to the Swiss-Serbian business community," commented Grujovic.
"Let me on this occasion also thank the WTI team whose encouragement and positive criticism made it possible for me to upgrade business know-how and achieve new career goals."
The SSCC was registered in March 2014 and officially opened on 24 April at an event attended by this year's Swiss President Didier Burkhalter.
Vision and activities
Its vision is to support the sustainable development of Serbian society by enabling the development of durable and long-term Swiss-Serbian business relationships, as well as by facilitating dialogue between the two countries, promoting Swiss values, know-how and best practices, and building up an efficient networking platform.
The SSCC's main activities will be business facilitation, advocacy, information provision, knowledge improvement and networking.
The creation of the Swiss-Serbian Chamber of Commerce sends out a strong message and indicates that Switzerland and Swiss companies will support Serbia in achieving ambitious objectives for the months and years ahead, Burkhalter said at the opening.
Swiss companies have invested over CHF 0.5 billion in Serbia since 2004, and the trend is positive. The decision of Swiss companies to establish a Chamber of Commerce reflects their trust in the future of Serbia and in the future of Swiss-Serbian ties, he said.
Serbian Prime Minister-designate Aleksandar Vucic told the event the goal was to make Serbia a more attractive destination for investors from neighbouring countries. Vucic expressed hope that Serbia would soon be an attractive destination not only for the Swiss, but for other foreign investors as well.