14 Jan 2015
---
WTI faculty address trade and investment governance in India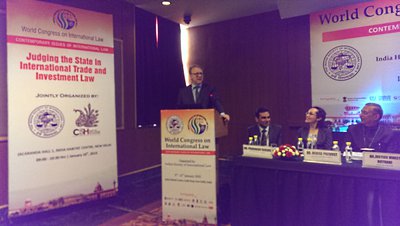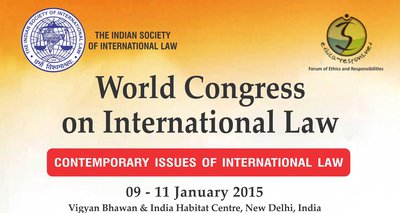 1

/ 2
On 9-11 January 2015, WTI faculty members Arthur Appleton (Appleton Luff) and Pierre Sauvé (WTI Director of External Programmes and Academic Partnerships) took part in the World Congress on International Law in New Delhi hosted by the Indian Society of International Law.
They addressed key challenges in trade and investment governance in a panel organised by the Delhi-based Centre for Social Sciences and Humanities (CSH), a research institute of the French Ministry of Foreign Affairs devoted to the study of major issues facing contemporary India and South Asia in an era of globalisation (see Congress programme).
In a panel  entitled "Judging the State in International Trade and Investment Law"  co-chaired by WTO Appellate Body Member Ujal Singh Bhatia and Justice Arjan Kumar Sikri of India's Supreme Court, Arthur Appleton's presentation ("Judging the Judges: Fitness to Serve on WTO Panels") explored the evolving composition and sociology of WTO panels.
In particular, the panel focused on how Member States are using (and misusing) the WTO judicial appointment process to advance policy goals. Pierre Sauvé's presentation, entitled "Learning by Doing in Investment Treaty-Making: Does State Conduct Reveal Adaptive Capacity?", explored  the nature and degree of substantive and procedural evolution in recent investment treaty making, situating adaptive changes in the context of a marked evolution in the political economy of global investment activity (see power point). 
The panel presentations will be turned into a book that will explore the State's role in international trade and investment matters.