---
Anurag Sehgal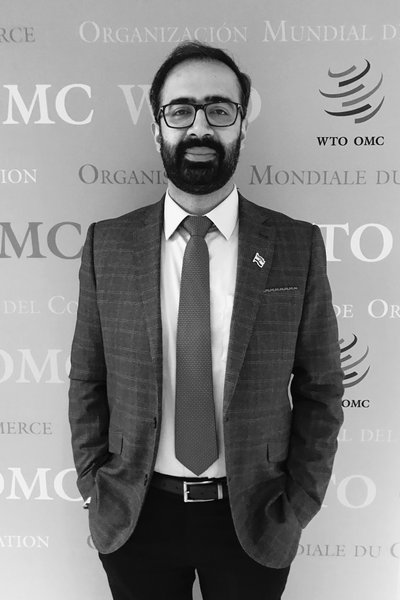 MILE 22
World Trade Institute

Anurag Sehgal is a trade negotiator from India with extensive experience in policy making and execution. Hailing from the prestigious civil services, he has about 15 years of experience in the international trade, tariffs, and customs issues. He has served at India's Ministry of Finance as well as the Ministry of Commerce. He also has wide field experience at important cargo ports in Delhi and Gujarat.
As a negotiator, Anurag has represented India in many negotiations at the multilateral as well as regional fora. This includes India's ongoing FTA negotiations/discussions with the EU, EFTA, and the UK.
In his WTO specific role in India's Ministry of Commerce, Anurag was responsible for coordinating the mammoth exercise of India's 7th Trade Policy Review as the Director [Trade Policy Division]. He coordinated with the WTO Secretariat and Government of India agencies to produce/facilitate the Government and the Secretariat reports on India's Trade Policy.
Among his WTO specific roles, Anurag has coordinated the implementation of India's WTO trade facilitation commitments. He has also represented India in the CTF meeting to share experience of India's National Committee on Trade Facilitation [https://tfadatabase.org/uploads/thematicdiscussiondocument/India_-_NTFC.pptx].
Further, as a policy maker in India's Ministry of Finance, Anurag was involved in India's annual Budget making exercise, thus contributing to formulation of fiscal policy and correcting structural anomaly in the tax rates during the annual Budgets 2015, 2016, & 2017. His preparatory work for the introduction of historic Goods & Services Tax in the country, integrating India as a market, has given him deep insights in India's taxation infrastructure.
With a post-graduate in Business Laws; bachelor's degree in Electronics Engineering; and a certification course in Customs & Business Administration from the Kookmin University, Seoul [under the aegis of the WCO], Anurag has joined the MILE program to deepen his expertise in international trade rules and negotiations.
He considers the WTI to be an ideal institution for gaining experience in international economic matters, especially in the times of rapidly changing global trade paradigm, and is confident of expanding his knowledge of international trade based on an inter-disciplinary approach. Simultaneously, as a student of MILE, he would strive to bring to the table his understanding of cross-border trade and customs, tax policy and his cutting-edge experience in handling current global trade issues.
Anurag is desirous of challenging responsibilities in the area of international trade and economics and is certain that the WTI's MILE programme, coupled with his experience in international trade, will provide him the right tools for a fulfilling role.
He speaks three languages and is passionate about cricket!
Further info
LinkedIn profile