---
Esther Okoro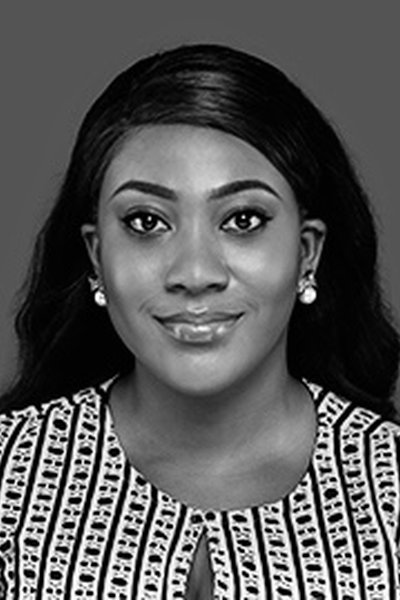 TRAIL+6
World Trade Institute

Esther Okoro is a Nigerian trained and qualified lawyer. She obtained her LLB from Obafemi Awolowo University, Osun State, Nigeria. In November 2018, after obtaining a First-Class degree from the Nigerian Law School, she was called to the Nigerian Bar as a Barrister and Solicitor of the Federal Republic of Nigeria.
Before joining the WTI, Esther was in private practice. She worked at a leading Nigerian business law firm for four years, where she specialized in corporate commercial law, commercial dispute resolution, dispute avoidance advisory and dispute management. Esther represented both local and international clients across a wide range of industries in court proceedings and ADR proceedings. She regularly advised clients on their legal rights and possible cause of action in the event of a dispute; formulated defense strategies; and offered general legal advisory services.
While in private practice, Esther advised and appeared as one of the commercial litigators that defended the interest of the local subsidiary of one of the largest shipbuilders and fabricators in the world on a complex dispute bordering on the status of entities registered in a free trade zone and compliance with Nigerian local content laws. She negotiated a US$27 million settlement between an indigenous oil and gas engineering company and a major Integrated Oil and Gas Company. Esther also successfully defended a leading Nigerian commercial bank in a claim for breach of contract and alleged illegal debits of over N100,000,000 and obtained judgement in favour of the bank.
Despite having a robust and active legal practice focused on dispute resolution and corporate law, Esther was resolute that she wanted to specialise in international trade and investment law.
Esther discovered her passion for trade and investment law during her undergraduate studies where she had the opportunity of studying international trade and investment law as an elective module. This piqued her desire to acquire more knowledge in this field.
This passion led Esther to leave her practice in Nigeria, travel over 4,000 kilometres to Switzerland to attend the WTI. It is Esther's goal to become Nigeria's chief trade negotiator. She intends to influence trade policies that will ensure liberalized and fair trade and eliminate barriers to trade especially non-tariff barriers in Nigeria and Africa. Esther aspires to make trade work for Nigeria in the wake of the implementation of the African Continental Free Trade Agreement. In furtherance of her goal and to build her capacity in international trade and trade finance, Esther obtained the International Chamber of Commerce (ICC) Global Trade Finance Certificate and is a certified trade finance professional.
When Esther is not busy with global trade and investment issues, Esther loves to cook, eat, dance and travel. Esther has travelled to 22 out of 36 states and federal capital territory in Nigeria. Esther is also passionate about sexual and reproductive health education, women's rights, children's rights and social justice.
While in the university, Esther was a member of the campus health and rights initiative, a peer education initiative focused on educating students in higher institutions on their sexual and reproductive health and rights. As a peer educator, Esther was part of a team that successfully organized the largest HIV and AIDS testing and counselling drive at the Obafemi Awolowo University. Over 1500 students were tested and advised on safe-sex practices.
Esther is Pan-African and a firm believer of Agenda 2063. She hopes that at the end of the TRAIL+ program she would be well equipped to contribute her part to create the Africa Africans want.