26 Jul 2022 Books/ Book Chapters
Atkinson, Craig
---
Implementing the AfCFTA: A Simple, Scalable, and Fast Computational Approach for Algorithmic Governance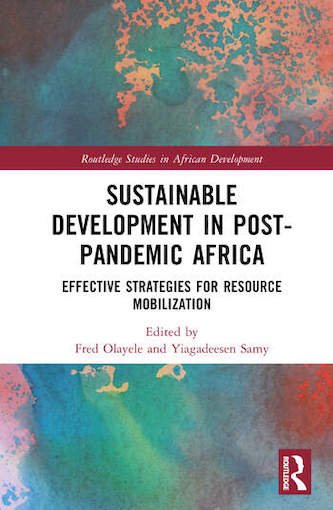 Book chapter co-authored by Craig Atkinson - former Visiting Research Fellow at the WTI - in a new book on "Sustainable Development in Post-Pandemic Africa".
Book chapter by Craig Atkinson and Joseph Potvin in Fred Olayele (Former WTI Visiting Research Fellow) and Yiagadeesen Samy (Eds.), Sustainable Development in Post-Pandemic Africa: Effective Strategies for Resource Mobilization, published by Routledge (2023). Foreword by Dr. Akinwumi Adesina, President, African Development Bank Group.
About the publication:
With both domestic and external financing expected to dry up in the wake of the Covid-19 pandemic, this book argues that there is a need for fresh ideas and new strategies for achieving sustainable development in Africa.
In addition to triggering the most severe recession in nearly a century, the Covid-19 pandemic has disrupted global value chains, causing unprecedented damage to health care systems, economies, and well-being, while also hitting the world's most vulnerable people the hardest. Even before the pandemic, low commodity prices, high debt levels, low levels of domestic savings, and weak private capital constituted a major drag on GDP growth across several African economies. This book argues that now, as the continent emerges from the current crisis, it will be important to reconfigure current financing sources under a forward-looking framework that incorporates other non-traditional financing tools and mechanisms such as public-private partnerships, sovereign wealth funds, gender lens investing, new growth drivers, and emerging and disruptive technologies. The book concludes by adopting a sectoral approach and examining the real economy impacts of new growth drivers such as agriculture value chains, industrialization, tourism, and the blue economy.
Drawing on a range of original research as well as insights from practice, the book is a useful guide for Global Development and African Studies researchers, as well as for policy makers, investors, finance specialists, global business practitioners, and entrepreneurs.
About the chapter:
In Chapter 9 by Craig Atkinson and Joseph Potvin, the authors describe a computational approach for simple, scalable and fast implementation of trade policy in the context of the AfCFTA rules. They suggest an approach that can improve trade governance and resource mobilization by diverse actors. The chapter begins by identifying various constraints to intra-African trade such as the patchwork of rules resulting from Regional Economic Communities (RECs), administrative hurdles to cross-border e-commerce, the existence of multiple 'digital divides' and the impact of complex health and safety management regulations, such as what arose throughout 2020-2022. 
To overcome these constraints and assist with the implementation of the AfCFTA, they outline the relevance of the recently launched "Data With Direction Specification" (DWDS) to facilitate the discovery and transmission of information about rules among all types of rule-makers and rule-takers. The resulting 'Internet of Rules' (IoR) is intended to ensure access and enable computer-assisted rules-based coordination for human-centred algorithmic governance. This proposal is particularly relevant for the concept of "Trade Policy 3.0" discussed by the authors, whereby digitally executable versions of commercial regulations are published on the Internet in a platform-agnostic open standard format.
Implementing the AfCFTA: A Simple, Scalable, and Fast Computational Approach for Algorithmic Governance
Further info
https://www.routledge.com/Sustainable-Development-in-Post-Pandemic-Africa-Effective-Strategies-for/Olayele-Samy/p/book/9781032027609