6 Nov 2012 Books/ Book Chapters
---
The Challenge Of Food Security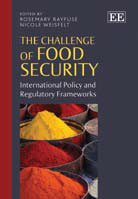 International Policy and Regulatory Frameworks
This timely study addresses the pressing issue of food security through a range of interdisciplinary contributions, providing both scholarly and policy-making perspectives. It sets the discussion on food security within the little-studied context of its international legal and regulatory framework. The expert contributors explore the key issues from a development perspective and through the lens of existing governance and policy systems with a view to articulating how these systems can be made more effective in dealing with the roots of food insecurity.


The book considers the root causes of food insecurity before discussing the regulatory challenges inherent in reconciling food production and sustainability to ensure both adequate supply of and equitable access to food, particularly in light of emerging issues such as food price volatility, 'land grabbing' and the need to coordinate the actions of the multitude of actors that influence food policy and regulation. It highlights the need for more equitable, transparent and coherent policy and regulatory approaches to the myriad of issues that make up the food security challenge.

This cross-cutting study will appeal to researchers in law, international relations, agricultural science and food systems, as well as to policy makers in government and international organisations that engage with policy and regulation of food security issues. It will also be essential reading for professionals in non-governmental organisations that are interested in development issues in general and food security in particular.
Contributors include: E. Bürgi Bonanomi, Christian Häberli