---
Yuliia Kucheriava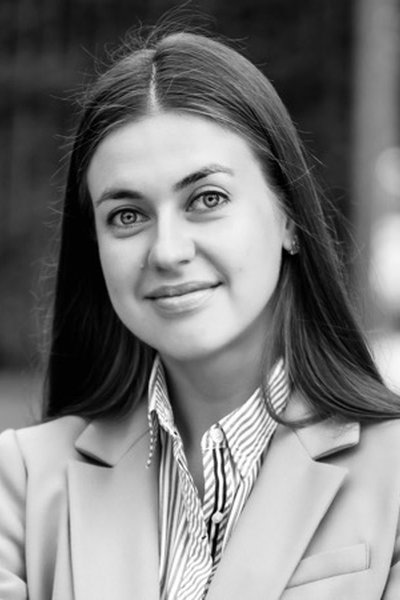 MILE 19 alumna, PhD candidate
WTI

Consultant, United Nations Economic Commission for Europe (UNECE)

Yuliia Kucheriava is an international trade lawyer, with corporate and litigation experience. Currently Yuliia is pursuing a PhD in law under the supervision of Professor Dr. Peter Van den Bossche. Her research interests focus on elaborating an international legal framework of effective carbon border adjustment instruments.
Yuliia Kucheriava has a diverse professional experience, which includes private sector, consultancy, academia, and international organisations. Recently she conducted legal analysis of how the existing WTO framework supports the conditions underpinning economic resilience by contributing to more open and predictable international markets for the World Trade Report 2021.
From 2020 to 2022 Yuliia carried out legal assessments and prepared submissions on sustainable trade and development for FratiniVergano, the Brussels-based law firm. She also assisted in the drafting and editing of the 5th edition of "The Law and Policy of the World Trade Organization" (Professor Dr. Peter Van den Bossche and Dr. Werner Zdouc 5th edition) as well as of the 2nd edition of the "Essentials of WTO Law" (Professor Dr. Peter Van den Bossche and Dr. Denise Prévost). Yuliia is a lecturer and a project coordinator at the WTI. She also participates in various capacity building activities. 
Prior to joining the WTI as a doctoral student, she received her Master's degree in International Law and Economics (MILE) from the World Trade Institute (WTI), University of Bern (Switzerland), summa cum laude, and Master of Laws degree from the Odessa I.I. Mechnikov National University (Ukraine) with honours.
Before enrolling in the MILE Programme, Yuliia worked as a legal counsel in the largest private company of Ukraine - Metinvest Group. Her practical experience included providing legal support during the implementation of strategic investment projects with the leading foreign suppliers (such as Küttner GmbH & Co. and Thyssen Krupp). Yuliia also assisted with all aspects of trade defence proceedings directed against imports from Ukraine since 2015. The company's sales network covering all key global markets allowed Yuliia to gain experience in other trade-related matters, including commodity trading risk assessment.
Yuliia received multiple awards, including the Winner Team Award and Best Orator Award in the WTI Moot Court on international Trade Law and WTO Dispute Settlement in June 2019, and Thomas Cottier Award for Best Master Thesis (MILE 2019). She is also a Member of the Association of Certified Anti-Money Laundering Specialists and is certified as a Global Sanctions Specialist.