7 Mar 2022 Books/ Book Chapters
Polanco, Rodrigo
---
International investment and human rights in Latin America: A quest for balance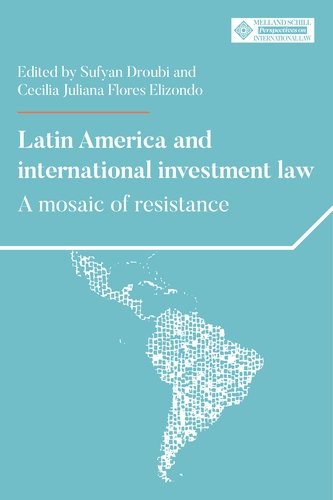 Book chapter by Rodrigo Polanco and Felipe Ferreira published in Sufyan Droubi and Cecilia Juliana Flores Elizondo (Eds.), Latin America and international investment law. A mosaic of resistance, published by Manchester University Press, pp. 261-294.
Abstract:
This chapter analyzes how the debate between foreign investment and human rights has evolved in Latin America through an assessment of jurisprudence and treaty- making involving countries from the region and its own regional system for the protection of human rights. We argue that through the litigation of investor– state disputes Latin American countries have, maybe inadvertently, developed different approaches to introduce human rights arguments as a way to balance their international commitments. Through this exercise, Latin American countries have been able to promote consistency between investor– state dispute mechanisms and the protection of human rights looking for ways to adapt to the challenges of the system. One unexpected outcome has been the degree of involvement paid by some tribunals to human rights arguments whose discussion is, to some extent, limited by Inter- American Regime of Protection of Human Rights. The region has at the same time absorbed, resisted, and adapted the mainstream approaches to international investment law, as well as developed new ones.
More about the book:
Latin America has been a complex laboratory for the development of international investment law. While some governments and non-state actors have remained true to the Latin American tradition of resistance towards the international investment law regime, other governments and actors have sought to accommodate said regime in the region. Consequently, a profusion of theories and doctrines, too often embedded in clashing narratives, has emerged. In Latin America, the practice of international investment law is the vivid amalgamation of the practice of governments sometimes resisting and sometimes welcoming mainstream approaches; the practice of lawyers assisting foreign investors from outside and within the region; and the practice of civil society, indigenous peoples and other actors in their struggle for human rights and sustainable development.
Latin America and international investment law describes the complex roles that governments have played vis-à-vis foreign investors and investments; the refreshing but clashing forces that international organizations, corporations, civil society, and indigenous peoples have brought to the field; and the contribution that Latin America has made to the development of the theory and practice of international investment law, notably in fields in which the Latin American experience has been traumatic: human rights and sustainable development.
Latin American scholars have been contributing to the theory of international investment law for over a century; resting on the shoulders of true giants, this volume aims at pushing this contribution a little further.
International investment and human rights in Latin America: A quest for balance