23 May 2023 Journal Articles
Panizzon, Marion
---
Through the Looking-Glass: The IOM Recasting the Safe, Orderly and Regular Migration Narrative at the UN and in West Africa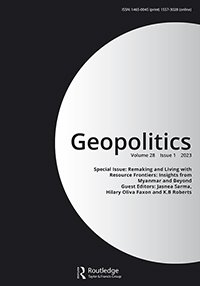 Marion Panizzon, Senior Research Fellow at the World Trade Institute, publishes together with Luzia Jurt a new article in "Geopolitics"
Abstract
The stated aim of the Global Compact for Migration (GCM) is to facilitate 'safe, orderly and regular migration'. Yet, plain meaning alone fails to reveal who is shaping this formative narrative. The International Organisation for Migration (IOM) has played a crucial role in the preparatory phase of the GCM and is coordinating its implementation. In this article, we shed light on two out of the IOM's global roles – a first one of coordinating the United Nations Network on Migration and the other role of organising the first International Migration Review Forum (IMRF) of the GCM. Hence, the IOM's institutional upgrade leads us to question to what extent the IOM has designed the GCM's narrative of 'safe, orderly and regular migration'. Through a non-systematic document analysis of UN and IOM reports and briefs, we find evidence that the IOM adjusts the meaning behind the 'safe, orderly and regular migration' depending on whether a global, respectively, regional mandate is at stake. To this end, we investigate the IOM's activities in West Africa where it faces an increasingly divided mission that lies at the intersection of its global and (trans-) regional roles. A closer look at how the IOM applies the narrative at global and West African levels reveals that it deliberately rearranges the order of the adjectives 'safe, orderly and regular' to produce different meanings for different policy purposes. Viewed strategically, we find the IOM generates such word combinations to either pursue its abovementioned multilevel strategy, or to affirm its new position among UN agencies. Hence, one and the same adjective deployed at the global and regional level amounts to a different meaning, with implications for policy attribution. In result, the IOM's strategy to recast the narrative of 'safe, regular and orderly migration' depending on whether it is fulfilling a regional or global role, ultimately leads to greater tension within the IOM as a whole.
Authors: Marion Panizzon & Luzia Jurt
Through the Looking-Glass: The IOM Recasting the Safe, Orderly and Regular Migration Narrative at the UN and in West Africa
Further info
Read the full article
About the journal "Geopolitics"