2 Jun 2023 Journal Articles
Klotz, Sebastian
---
Who drives the international standardisation of telecommunication and digitalisation? Introducing a new data set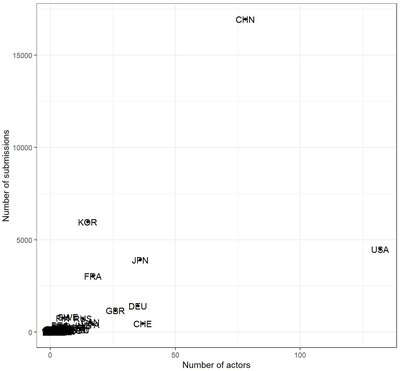 In a new publication in Global Policy, our WTI non-residential fellow Sebastian Klotz explores this question.
Analysing the contributions of 800 government and private actors between 2000 and 2022, WTI non-residential fellow Sebastian Klotz finds that a number of Chinese actors have been particularly active in driving the standardisation work of the International Telecommunication Union (ITU).
Check out the publication and the accompanying dataset (https://onlinelibrary.wiley.com/doi/10.1111/1758-5899.13223) to find out more.
Abstract
Reinforced by the technological decoupling and the related battle for technological supremacy between the United States and China, telecommunication technology has become increasingly politicised. As the functioning of global telecommunication technology relies on interoperability and compatibility, government and private actors have strong incentives to shape the underlying standards in their economic and political interests. The International Telecommunication Union (ITU) and its Members play a central role in setting these standards for future telecommunication technology. Despite the ITU's importance in this field, relatively little is known about the organisation's work on standardisation and the actors behind it. This Policy Insight introduces a new data set on the involvement of over 800 government and private actors and their almost 50,000 contributions to ITU standardisation processes between 2000 and 2022. A descriptive analysis of the data set illustrates that particularly Chinese actors—Huawei, ZTE, China Mobile, China Unicom and China Telecom—have been actively driving the ITU's standardisation processes in the areas of transport, access and home but also future networks and cloud. The data set introduced here is envisaged as a source which allows researchers to study the reasons and implications for certain actors' involvement in the international standardisation of telecommunication and digitalisation.
Who drives the international standardisation of telecommunication and digitalisation? Introducing a new data set