4 Oct 2023 Books/ Book Chapters
Bogdanova, Iryna
---
China's Use of Export Restrictions and WTO Law: Heading toward "Weaponization" of Exports?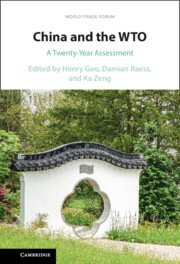 This chapter, written by WTi's researcher Dr Iryna Bogdanova, is part of the book "China and the WTO: A Twenty-Year Assessment", published open access by Cambridge University Press and edited by Henry Gao, Damian Raess and Ka Zeng.
Abstract
The US-China trade war and looming 'technological de-coupling' instigated major revisions of Chinese laws and regulations. These recent amendments represent a major shift in the role assigned to export restrictions. In particular, China is more willing than before to use export restrictions as a geopolitical tool. To test the veracity of this assertion, this chapter analyses China's use of export restrictions in the period from 2001 to 2021. It suggests that three distinct phases can be discerned: (i) the elimination of export restrictions before and after joining the WTO; (ii) the selective use of export restrictions for domestic policy reasons; and (iii) a shift toward strategic use of export restrictions as an instrument of geopolitical competition. Several implications flow from this new development: it endangers existing supply chains, may bifurcate the global economy by sapping its growth potential and contributes to the erosion of the multilateral trading system.
About the author
Iryna is a Postdoctoral Researcher and a recent PhD graduate from the World Trade Institute, University of Bern, where she worked for the project Towards a Principle of Common Concern in Global Law under the supervision of Professor Thomas Cottier. Her thesis explores the legality of unilateral economic sanctions, i.e. those imposed by individual states without authorization of the United Nations Security Council, under international law. This research was financed by the Swiss National Science Foundation, and it came out as a book in July 2022.
Over the course of past years, Iryna has steadily published contributions analysing various aspects of economic statecraft and summarizing the most recent developments in this field. Between 2017-2019, she has presented her work at various academic events, including conferences organized by the University College London, the Nottingham International Law and Security Centre and the Amsterdam Center for International Law. Currently, she is preparing a report on malicious behaviour in cyberspace and unilateral cyber sanctions - to be presented at the upcoming Cybersecurity Law and Policy Scholars Conference hosted by the University of Minnesota Law School in October 2021.
Iryna graduated from the Master of International Law and Economics (MILE) program at the World Trade Institute in 2015. Before that, she received her Bachelor's and Master's diplomas as a top-ranking student of the law faculty of the National University of Kyiv-Mohyla Academy, Ukraine.
Iryna's previous working experiences are diverse and range from work in the private sector to work in international organizations. In 2015 she worked as a consultant at one of the leading European law firms in Brussels, where she gained valuable practical experience in the field of international trade law. In 2016 Iryna was a legal intern at the Appellate Body Secretariat of the World Trade Organization, and in this capacity, she assisted the legal team with the appeals. Prior to that, Iryna worked as a legal and corporate affairs manager for a multinational corporation in Ukraine (2012-2014).
Iryna's research interests include international trade law and policy, collective and unilateral economic sanctions and their effectiveness, use of economic coercion to convey moral norms, economic sanctions and international law, regulation of emerging technologies and impact of disruptive technologies on international economic law.
Iryna's publications can be accessed here.
China's Use of Export Restrictions and WTO Law: Heading toward "Weaponization" of Exports?