31 May 2013 Reports/ Presentations
Panizzon, Marion
---
Global Forum on Migration and Development (GFMD): Politics, Process and Prospects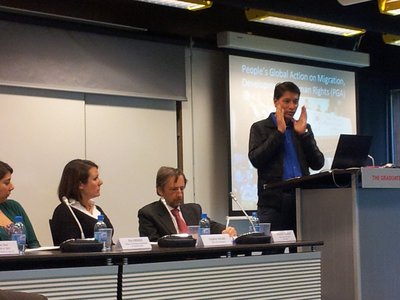 Presentation by Marion Panizzon at the Conference on "Joint Reflections on Migration and Development", Graduate Institute of International and Development Studies, Geneva, 30-31 May 2013.
This conference was organized by the Programme for the Study of Global Migration (PSGM) and sponsored by the Swiss Agency for Development and Cooperation (Programme global Migration and Development) to maintain the momentum in the multi-stakeholder approach to international Migration and Development debates in the context of the upcoming High Level Dialogue on International Migration and Development and the consultation processes around the post-2015 Agenda for International Cooperation.
Marion Panizzon gave a geeneral presentation on the GFMD politics, the process and the prospectives, in view of the preparations for the GFMD 2014.

Global Forum on Migration and Development (GFMD): Politics, Process and Prospects
Further info
Conference page
Conference programme, PDF