8 Nov 2013 Books/ Book Chapters
Sauvé, Pierre
---
The Road to Bali: ERIA Perspectives on the WTO Ministerial and Asian Integration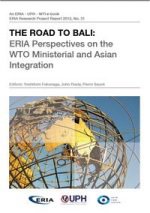 ERIA Research Project Report 2012-31. E-book co-edited by Yoshifumi Fukunaga, John Riady, Pierre Sauvé
The World Trade Organization's (WTO) forthcoming Ninth Ministerial Conference in Bali comes at a critical juncture for the multilateral trade body, long mired in the Doha Round stalemate. Beyond offering a critical first test at consensus-building and institutional renewal, the Bali Ministerial affords a unique opportunity to gauge contrasting perceptions across ASEAN and East Asian countries of the continued relevance of the WTO to trade and economic governance within the region and beyond.
Resulting from the collaborative efforts of the Economic Research Institute for ASEAN and East Asia (ERIA), the Universitas Pelita Harapan (UPH) and the World Trade Institute at the University of Bern (WTI), this policy research initiative offers comparative scholarship on some of the key questions arising from the forthcoming WTO Ministerial gathering from an East Asian perspective. Specifically, it explores what scholars in the region expect the Bali Ministerial to produce by way of tangible outcomes and whether the Ministerial will restore the momentum needed to bring the Doha Round to a successful conclusion.
Contributors also investigate how relevant the WTO remains to the multiple processes of deepening economic integration in ASEAN and East Asia (e.g. AEC, TPP, RCEP) and, importantly, what lessons in rule-design and market opening WTO Members could usefully draw from the ongoing march towards the establishment of an ASEAN Economic Community.
The Road to Bali: ERIA Perspectives on the WTO Ministerial and Asian Integration