29 Mar 2016 Books/ Book Chapters
Polanco, Rodrigo
---
International Investment Law in Latin America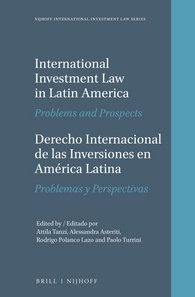 Book co-written and co-edited by Rodrigo Polanco:
With the bilingual volume International Investment Law in Latin America: Problems and Prospects, Attila Tanzi, Alessandra Asteriti, Rodrigo Polanco Lazo and Paolo Turrini provide a regional perspective on one of the liveliest branches of international law by situating it in one of the most dynamic areas of the world.
Latin America has always had an ambivalent relationship with international investment law and, more recently, it has been the home of harsh and resolute criticisms, questioning the ultimate legitimacy of the regime. By bringing together distinguished scholars of this legal field, the volume analyses ongoing trends and draws lessons from the Continent's past experiences while identifying possible solutions to the important challenges it faces.