5 Jul 2018 Books/ Book Chapters
Polanco, Rodrigo , Sauvé, Pierre
---
The Pacific Alliance in a World of Preferential Trade Agreements - 2019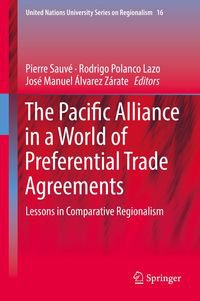 Edited by: Pierre Sauvé, Rodrigo Polanco Lazo, José Manuel Álvarez Zárate
This book is part of the United Nations University Series on Regionalism.
ABSTRACT: This volume focuses on one of the most innovative deep integration constructs, The Pacific Alliance, which aims at expanding the frontiers of trade and investment governance in Latin America. It draws on a conference held at Externado University in Bogota, Colombia, in November 2015, bringing together leading scholars, practitioners and officers of public, regional and international organisations interested in a critical analysis of the Alliance, its distinctiveness and likely future directions. The volume features contributions from the multi-disciplinary lens of law, political science and economics.
The Pacific Alliance, comprising Chile, Colombia, Mexico and Peru, aims through a participatory and consensual manner to promote the free circulation of goods, services, capital and persons among its members, and to secure deep economic integration through collaboration across a broader set of policy areas than typically obtains in more traditional preferential trade agreements. This volume is of interest to policy makers and staff of international organizations involved in trade and investment negotiations, international economic governance in general as well as faculty, researchers and graduate students of these topics and of international political economy and comparative regionalism.
The Pacific Alliance in a World of Preferential Trade Agreements - 2019