20 May 2022 Books/ Book Chapters
Atkinson, Craig , Burri, Mira , MILE 15, Jimena Sotelo
---
The Promise of TradeTech: Policy Approaches to Harness Trade Digitalization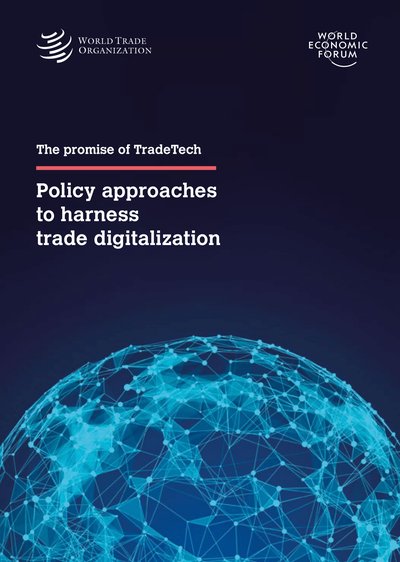 Report co-published by the World Trade Organization and the World Economic Forum in April 2022 featuring WTI-affiliated drafters/coordinators, contributors, and reviewers (Jimena Sotelo, Craig Atkinson and Mira Burri).
About the publication:
TradeTech - the set of technologies that enables global trade to become more efficient, inclusive and sustainable - plays an important role in easing the flow of goods across borders, reducing trade costs and creating new trade opportunities. This publication explores how international policy coordination, in particular the development of specific rules in trade agreements, could advance the adoption of digital technologies and trade digitalization across the world.
More about the publication:
Although technological innovation exists, the major challenge to the global adoption of TradeTech will be building international policy coordination. Here, trade agreements can play a key role. Trade agreements are generally technology-neutral, and many existing trade rules apply to digital trade. Yet, developing additional rules will be needed to provide further legal certainty as to how they apply in the digital field. Since 2010, regional trade agreements (RTAs) have increasingly integrated e-commerce and digital trade provisions, while digital-only trade agreements have recently emerged. Furthermore, more than 85 WTO members also participate in the Joint Initiative on E-commerce. Despite these ongoing efforts, there remain many opportunities and unexplored policies.
This publication is the result of a joint effort of the World Economic Forum and the WTO. The lead drafters and coordinators were Ziyang Fan and Jimena Sotelo of the Forum and Kian Cassehgari Posada and Emmanuelle Ganne of the WTO. A full list of contributors and reviewers can be found at the end. The publication was edited and reviewed by Ross McRae of the WTO. 
Chapter 5. Global Trade Rules Access and Computational Law (Contributed by Craig Atkinson)
The Promise of TradeTech: Policy Approaches to Harness Trade Digitalization
Further info
Watch the recording of the launch event, download full publication or order a copy