5 Aug 2021 Books/ Book Chapters
Elsig, Manfred , Polanco, Rodrigo , Van den Bossche, Peter L.H.
---
International Economic Dispute Settlement: Demise or Transformation?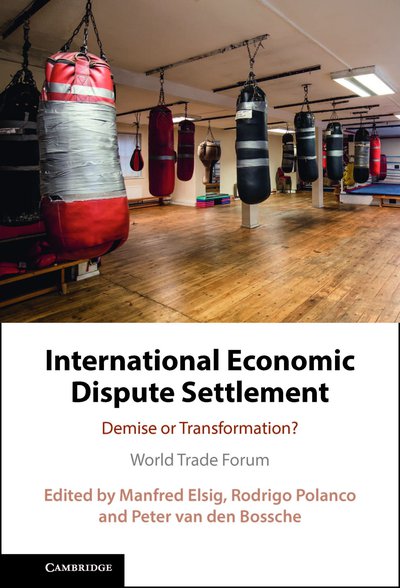 Edited book associated with the 2019 World Trade Forum by (eds.) Manfred Elsig, Rodrigo Polanco and Peter Van den Bossche, published by Cambridge University Press (2021)
The post-Cold War era has seen an unprecedented move towards more legalization in international cooperation and a growth of third-party dispute settlement systems. WTO panels, the Appellate Body and investor-state dispute settlement cases have received increasing attention beyond the core trade and investment constituencies within governments. Scrutiny by business, civil society, academia, and trade and investment experts has been on the rise. This book asks whether we observe a transformation or a demise of existing institutions and mechanisms to adjudicate disputes over trade or investment. It makes a contribution to the question in which direction international economic dispute settlement is heading in times of change, uncertainty and increasing economic nationalism. In order to do so, it brings together chapters written by leading researchers and experts in law and political science to address the challenges of settling disputes in the global economy and to sketch possible scenarios ahead of us.
Contributors include: Karen Alter, Krzysztof Pelc, Kholofelo Kugler, Kathleen Claussen, Simon Lester, Huan Zhu, Jason Yackee, Geraldo Vidigal, Stephan Schill, Vyoma Jha, Daniel Behn, Malcolm Langford, Laura Létourneau-Tremblay, Runar Lie, Tetyana Payosova, Malebakeng Forere, Cornelia Furculita, Sean Stacy, Elli Zachari, Jenya Grigorova, Locknie Hsu, Philippe Lionnet, Jonathan Bonnitcha and Lauge Poulsen.
International Economic Dispute Settlement: Demise or Transformation?